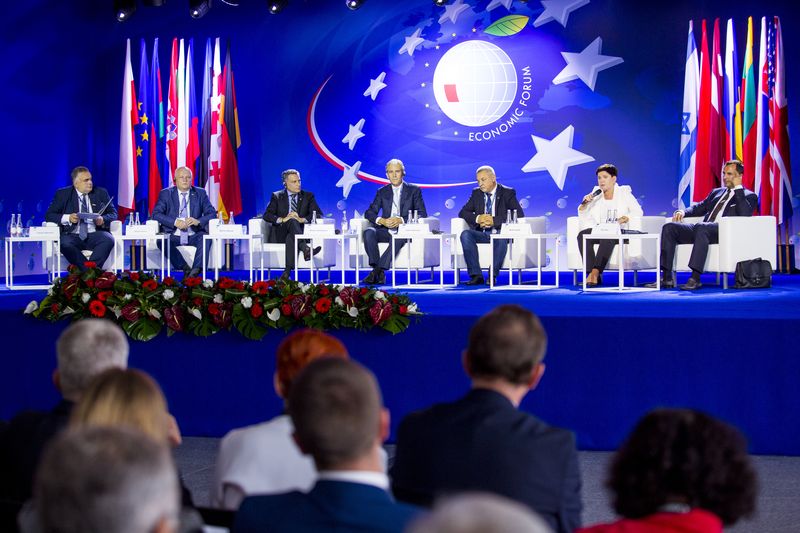 Quest'articolo è disponibile in:
[English version below]
Jeśli początek września, to Forum Ekonomiczne. Jeśli Forum Ekonomiczne, to Krynica. Od dwudziestu dziewięciu lat to najważniejsze spotkanie politycznych i ekonomicznych elit Europy Środkowo-Wschodniej. W tym roku hasło przewodnie konferencji brzmi – "Europa jutra. Silna, czyli jaka?"
Polityczna i ekonomiczna stolica kontynentu – na trzy dni, to nieco ponad 10-tysięczne miasto, urasta do miana miejsca, w którym zapadają najważniejsze decyzje i strategiczne plany nie tylko na Polski, ale całej Europy. Na krynickim deptaku spotkać można prezydentów, premierów i ministrów, a obok nich o wielkich pieniądzach rozmawiają szefowie największych międzynarodowych korporacji. Wszyscy zgodnie podkreślają, że klimat tego miejsca pozwala na niezwykle merytoryczne rozmowy, które przy okazji toczą się w pięknych okolicznościach sądeckiej przyrody. Taki entourage musi sprzyjać każdym negocjacjom.
Tegoroczne hasło Forum – "Europa jutra. Silna, czyli jaka" ma dać odpowiedź na pytanie o to, jak Stary Kontynent będzie sobie radził w nadchodzącej dekadzie. Ma także pokazać strategie, którą powinny przyjąć europejskie rządy w globalnym układzie politycznych oraz ekonomicznych sił. – Europa od dłuższego czasu nie może sobie poradzić z wewnętrznymi problemami, w których na pierwszy plan wychodzi Brexit. Wielka Brytania od 29 marca powinna być już poza strukturami Unii Europejskiej, a końca negocjacji w sprawie opuszczenia Wspólnoty wciąż nie widać. Na naszych oczach zanika idea Grupy Wyszehradzkiej, z powodu małej aktywności Czech i Słowacji. Wciąż nie wiadomo co z inicjatywą Trójmorza, w której wiodącą rolę chce grać Polska, co nie do końca podoba się państwom Europy Zachodniej. W polityce globalnej mamy amerykańsko-chińską wojnę celną i potężne napięcia na linii Stany Zjednoczone – Iran. To wydarzenia, które mogą mieć olbrzymi wpływ na światową politykę i ekonomię w najbliższym czasie, ale ich konsekwencje mogą się ciągnąć latami – mówi Zygmunt Berdychowski, Przewodniczący Rady Programowej i pomysłodawca Forum Ekonomicznego w Krynicy. – Tylko wspólny głos Europy może pokazać jej siłę. Rozbieżności w najważniejszych kwestiach, daje pole do forsowania własnych interesów krajom o największym potencjale gospodarczym i militarnym. A przecież europejscy liderzy potrafią rozmawiać, czego doskonałym przykładem może być sprawa Macedonii Północnej i Grecji. Ten konflikt o nazwę kraju udało się zażegnać po bardzo wielu latach. W takim zjednoczeniu, wspólnym patrzeniu w przyszłość, ale z szacunkiem dla historii i poszanowaniu interesów, rysuje się wizja Europy, która może być silna i konkurująca ze światowymi mocarstwami. Myślenie o własnych interesach ostatecznie do niczego nas nie zaprowadzi. Choć ekonomicznie stoimy dobrze, to społeczeństwo europejskie najszybciej się starzeje i prędzej czy później ten wyścig przegra – dodaje Berdychowski.
http://www.forum-ekonomiczne.pl/category/wydarzenia/forum-ekonomiczne/forum-ekonomiczne-2019/
___
Europe of Tomorrow. 'Strong' Meaning What?
The beginning of September means that business life resumes after summer break. Nowhere else can you feel it as much as in Poland's ski resort of Krynica. Organised for over a quarter-century, The Krynica Economic Forum has grown into the most impactful meeting of political and economic elites in Central and Eastern Europe.
For 3 days, Krynica becomes a political and economic heart of the continent. Heads of state and government, ministers and MPs mix with business executives and renowned experts to discuss big issues of the day. Everyone agrees that the atmosphere and natural beauty of this unique place help achieve mutual understanding, making for a perfect entourage for negotiations.
As suggested by this year's leading theme "Europe of Tomorrow. 'Strong' Meaning What?", the conference will focus on how the Old Continent will cope in the next decade and on strategies that should guide the European governments in the global system. "For a long time, Europe has not been able to deal with its internal problems, above all Brexit. The United Kingdom was supposed to leave the EU from 29 March, but the fate of Brexit negiotations hangs in balance. In the CEE region, cooperation flourishes within the Visegrad Group. Likewise, the Three Seas Initiative, although frowned upon in Western Europe, keeps developining. In global politics, we can see unfold the US-China trade war and mounting tensions between the United States and Iran. These are incidents that may have a huge impact on world politics and economy in near future, and their consequences may endure for years," says Zygmunt Berdychowski, the conference founder and chairman of its programme council. "Only speaking with a common voice  can Europe show its strenght. Divergences on fundamental issues lead to fragmentation, with the stronegest players eventually pushing through their interests. One good exaple of when European leaders managed to find common ground was the settlement of the years-long conflict between governments in Skopje and Athens over what what eventually became Northern Macedonia. Only a united, shared vision of the future, respecful of individiual historical experiences and interests, can secure strength and competitive advantage that Europe needs to count as a superpower. Egoism will get us nowhere in the end. Although economically strong, Europe is ageing fast and risks falling out of the race," adds Berdychowski.
http://www.forum-ekonomiczne.pl/category/events/economic-forum/forum-ekonomiczne-2019-en/?lang=en
Quest'articolo è disponibile in: